Back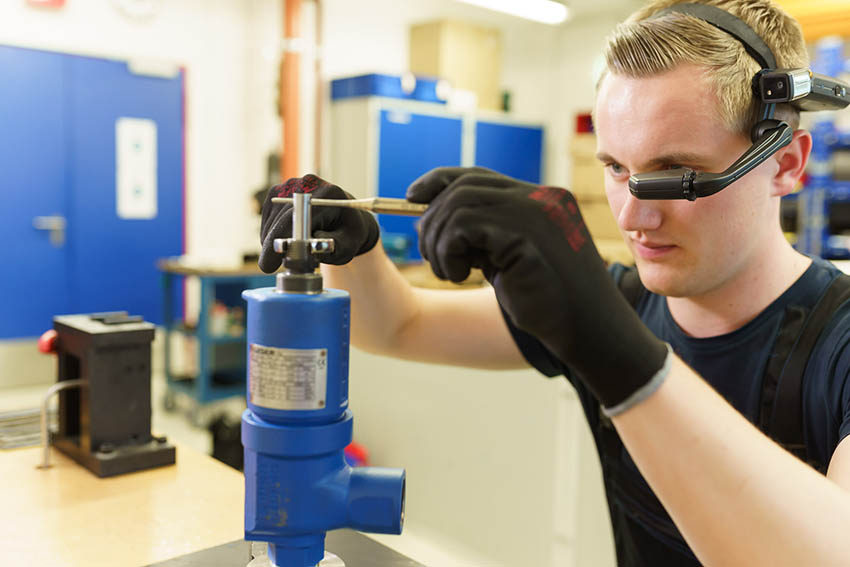 Interview Easyengineering

Easy Engineering is a magazine that - among other things - regularly conducts and publishes interviews with companies in the industrial sector. Their publications reach around 200.000 readers a month and adress the most innovative products of the market. Last week's interview featured LESER. The topics ranged from a general overview about the company to market trends and how LESER will adapt to future challenges.
"All vessels or systems must be protected against overpressure to protect the plant and prevent worse in the event of an emergency. Safety valves are safety devices and, in many cases, the last safeguard. LESER offers spring loaded and pilot operated safety valves for all industrial applications. With the help of a total of 1,050 employees and nine subsidiaries worldwide, LESER distributes approximately 130,000 safety valves annually. This makes LESER one of the leading companies in its industry internationally.
1) What are the main areas of activity of the company?
Safety valves are used where overpressure occurs. Therefore, important companies in the industries: Chemistry Oil & Gas Petrochemistry Energy Industrial gases Pharmaceuticals Food and beverage use LESER safety valves. LESER safety valves are developed for the international market in Hamburg and manufactured in the modern plant in Hohenwestedt/Germany. In addition, LESER produces safety valves for the local markets in India and China according to the same standards. In addition to the pure manufacturing of these products, LESER also offers services such as maintenance, repair, overhaul of safety valves as well as replacement delivery within 24h.
2) What's the news for 2020 about new products?
There were some innovations in 2021. For example, after 1.5 years of development, the high-pressure pilot-operated safety valve is almost ready for the market. Tests with these valves were successfully carried out for the first time at up to 610 bar. In addition, delivery times for safety valves manufactured in Germany will be standardized in the Global Delivery Time Promise in 2021. With a few exceptions, all safety valves can be delivered within two weeks. This is possible due to the Assembly-To-Order (ATO) principle. The necessary individual parts are already available in the extensive ready machine parts stock and assembly begins immediately after receipt of the order. This also ensured the rapid delivery of safety valves to vaccine manufacturers during the current Corona pandemic. For example, LESER managed to send seven safety valves to BioNTech's production facility in Marburg within four days. Also, the first safety tests with water took place in 2021 at LESER's demonstration facility the LESER Chatroom in Hamburg, Germany. From now on, overpressure scenarios can be vividly demonstrated with gas and water to customers.
3) What are the ranges of traded products?
Each area and each application must be individually matched to the situation and safeguarded. For this purpose, the system conditions, such as set pressure, temperature, medium or approvals are considered. Therefore, LESER offers nine different product groups and over 2 million configurations. With the help of the ValveStar® tool developed in-house by LESER, customers can create their individual configuration. In doing so, ValveStar® takes into account all the world's leading standards and regulations. In addition to calculation and design, the program offers variable, customizable reports for technical documentation.
4) At what stage is the market where you are currently active?
Safety valves make an important contribution to sustainable industrial production – they are safety-relevant and therefore necessary. The largest areas of application for safety valves remain the chemical industry, oil & gas and petrochemicals. But with liquefied natural gas (LNG) and hydrogen, new challenges are emerging. Safety valves must be tailor-made to meet these demands. The protection of ever higher pressures at cryogenic or high temperatures is becoming a prerequisite.
5) What can you tell us about market trends?
The requirements for tightness, back pressure, corrosion protection, and plant availability are constantly increasing. Therefore, the demand for individual configurations is increasing and the market is diversifying. Products are also undergoing a transformation. Spring-loaded safety valves currently account for the majority of valves sold. However, a clear trend is foreseeable: the share of pilot-operated safety valves sold is constantly increasing. The advantages of this product group include a more compact design, the possibility of higher operating and back pressures, and lower weight.
6) What are the most innovative products marketed?
Digitalization is important to LESER. That's why customers can also access the web services in the field thanks to the LESER Digital ID. For this purpose, a stainless steel tag with a lasered QR code can be ordered. After scanning this code, all important technical data can be viewed at a glance. For safety valves that have already been installed, retrofitting of the Digital ID is of course also possible. Customers can also carry out the final factory inspection of the goods digitally via LESER Remote Inspection. The LESER inspection attendant wears smart glasses that record his field of vision and transmit the image and sound live. This saves travel expenses, working time or the cost of hiring independent inspectors. This is made possible by LESER's investment in state-of-the-art inspection equipment and video conferencing technology. This also convinces the monitoring companies and due recertifications by the National Board or the TÜV are also already carried out via remote inspection. In addition, LESER regularly conducts live online trainings in addition to face-to-face trainings. LESER offers both time-independent online courses and live online trainings. With the help of application examples, cutaway models and real parts, the technology of safety valves is taught in a practical manner.
7) What estimations do you have for 2021?
Renewable energies are not yet sufficient to meet the world's energy needs. Liquefied natural gas (LNG) offers a welcome transitional solution to renewable energies. LESER is aware of this trend and is prepared. However, the requirements for such projects are complex, as natural gas production takes place in a wide range of environments – from the Arctic to the desert, but also offshore. That is why LESER guarantees safe operation and tightness of safety valves even at cryogenic temperatures of -164°C and pressures up to 155 bar. Hydrogen is also an industry with a promising future. LESER made a name for itself early on as a specialist for safety valves in this field. LESER offers its customers reliable solutions for overpressure protection for the generation, transport, use and further processing of hydrogen. A few years before the big trend to hydrogen, LESER successfully carried out a first pilot project for overpressure protection of a hydrogen filling station in the Hafen City in Hamburg. Digitalization will also play an even greater role in the future. Here, too, LESER is steadily expanding its offerings. LESER already offers the service of online Training Break webinars, Remote Inspection and Digital ID, but there is more to come. Especially the structure and technical data of the installed safety valves are to be digitally retrievable even more easily, comprehensively and clearly in the near future."

To read the original Interview click here